Earlier this month Tunisia-based HK Consulting was recognised at a glittering ceremony in Dubai for its national BIM (Building Information Modelling) training initiative.
HK Consulting, an Autodesk Training Partner, received the "Workforce of The Future' Award" during the Impact Awards Ceremony at The Big 5, the International Building & Construction Show. HK Consulting was recognised for its project to integrate BIM within the academic curriculum on a national level in Tunisia.
The Awards are designed to acknowledge sustainable development, as well as technological and digital achievements in the construction industry.  HK Consulting's programme was selected from hundreds of entries by an international independent judging panel. 
It was our absolute pleasure to receive this international award recognising our efforts and impact in driving the digital transformation in the building and construction industry in North Africa.

In an era of digitisation, we know how important it is for the construction workforce to develop the skills it needs to revolutionise the building sector. We recognise there's a need for the workforce to develop the practical skills and know-how they need in the workplace.  Capitalising on the products of our partner Autodesk, this programme offered participants across Tunisia the opportunity to develop skills they will use throughout their careers.

Eya Hammouda, Managing Director at HK Consulting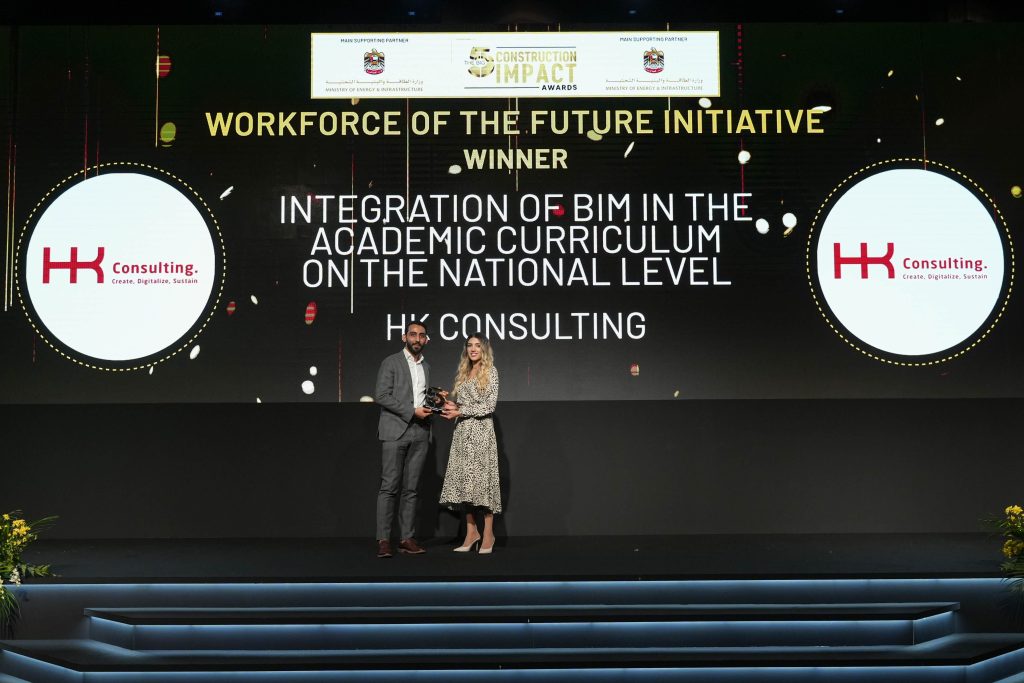 On behalf of the KnowledgePoint team I'd like to extend our congratulations to the team at HK Consulting.  This is a great example of how the Autodesk Training Network can have impact on a national and international level. This programme will clearly help existing and future generations to develop the skills they need for productive and rewarding careers.  Bravo HK Consulting.

Tomas Karlsson, Senior Manager Channel Services at KnowledgePoint
With an international focus, The Big 5 event and awards attracts attendance from organisations across the construction sector. Sponsored by the Ministry of Energy and Infrastructure of Emirates and Saudi Made and DMG Events, this year's event was held at the Dubai World Trade Center. Attendees were drawn from the Middle East, Africa, Pacific Asia, and Europe.
Based in Tunis, HK Consulting is an expert in BIM, offering a range of training and consultancy services.  Since 2017, HK Consulting has been leading in the implementation and execution of the BIM process in Tunisia, working collaboratively with industry, governments and academia.
For further information about KnowledgePoint and its role as the Autodesk Learning Partner Distributor for the EMEAR territory, or to find out about training local to you, visit: https://knowledgepoint.com/autodesk/