Against the backdrop of the continued challenges in Ukraine, representatives of the AEC (Architecture, Engineering and Construction) sector came together in Lviv to explore BIM (Building Information Modelling).
With a focus on creating the conditions for the sector to work effectively on the reconstruction of the country, the conference was attended by more than 80 people. Despite challenging conditions, participants came from all parts of Ukraine – including from Kyiv, Kharkiv and Odesa – hearing from specialists in BIM and VDC (Virtual Design and Construction).
Given its timing, the conference was themed around BIM in conditions of war.  The in-person event was organised by Authorized Autodesk Learning Partner, Parametric Educational Center LCC.  Speakers highlighted the diverse experience of current work and incredible work from the world of BIM and VDC.
Vityk Zakhar (www.linkedin.com/in/zakvityk), CEO of Parametric Educational Center LLC – "How did post-secondary education change during the war?" He underlined that, even with the onset of the war, Ukrainians did not stop learning.  He said learning was approached with greater zeal, and participants began to master modern software solutions for more effective work, as well as cooperation with partners and customers from Europe and North America.  Companies from Ukraine have been increasingly offering their services abroad increased significantly during the war. Parametric plays a role in helping partners from abroad find specialists in Ukraine to work with projects with a BIM requirement, including those using Autodesk Revit
Oleksandr Vysochanskyi (https://www.linkedin.com/in/alexvy/) from the company New Vision talked about their participation in cooperation with foreign clients who are among the top 20 developers in the USA.  He shared valuable knowledge about the specifics of the market, and also shared his perspective on how participants should identify their niche and grow from a small modeler to a successful company that is engaged in VDC in full and successfully exports its work abroad.
Dmytro Makarov (https://www.linkedin.com/in/makarovdm/), Head of Team VAD Autodesk in Ukraine – MUK highlighted how actively the domestic market is also developing.  Dmytro spoke in detail about the advantages of using Autodesk software in design and directly during construction.
A major problem around the legislation of VDC and BIM standards at the state level has persisted in Ukraine for some time.  This is required to regulate and effectively manage the documentation development processes.  Thanks to an initiative by the UA BIM Community, there have been significant developments in this direction. Ihor Yurasov  (https://www.linkedin.com/in/iyur)spoke about the changes in the laws of Ukraine, which are already beginning to regulate BIM modelling, and the use of ISO 19650 practices at a country level is foreseen. Undoubtedly, this progress in the right direction for the digitalization of the entire construction industry in Ukraine.
Colleagues from the AVR Development (https://www.linkedin.com/company/avrdevelopment/) highlighted how they've   transformed from a studio of ten into a company with more than 120 designers who with mastery of BIM technologies and have been designing high-quality on the Ukrainian market for more than 15 years.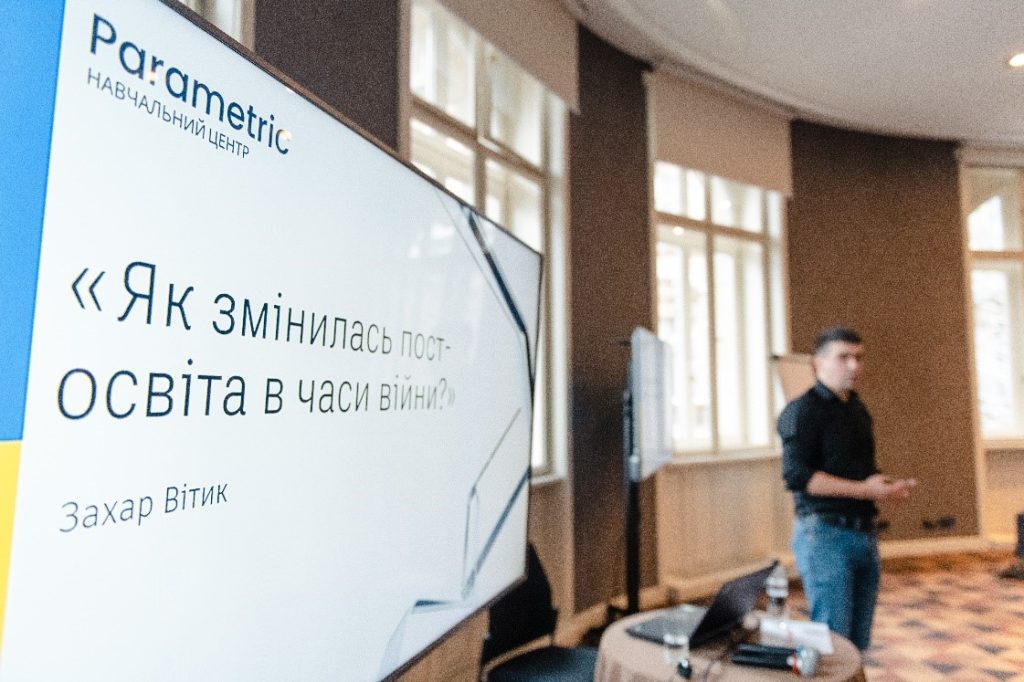 Commenting on the success of the event, Zakhar Vityk, CEO of Parametric Educational Center LLC said: "We're incredibly grateful to all the speakers and participants of the conference who made this event truly all-Ukrainian.
"We look forward to continued collaborative efforts to train specialists and adopt BIM across the country. Our country has been subjected to continued aggression, resulting in the destruction of communities and infrastructure.
"We need to make sure that the AEC sector in Ukraine is equipped with the skills it needs to rebuild. We believe improving understanding and mastery of BIM is critical for the AEC sector – and the future of our country."
About Parametric Educational Centre LLC (https://scparametric.com/)
An international team of professionals with its main R&D department in Ukraine, Parametric has been serving the world AEC industry since 2012. With more than 20 employees – BIM modelers, Software engineers, QA/QC engineers, UI/UX designers – the company has worked with customers around the world. Services include:
Software development: Development and deployment of software products and applications for the AEC industry, including Autodesk products
Virtual design construction: Project support with full circle of VDC for engineering needs: Electrical, HVAC, Mechanical, Plumbing, Structure, etc. Model coordination, and clash detection and clash resolving
Scan to BIM: The use of Lidar technologies of laser scanning (Point Clouds) for the creation of BIM models.
Family creation: Full Revit content library creation, Parametric families with shared parameters (NBS) and families for prefabrication.
For further information about KnowledgePoint and its role as the Autodesk Learning Partner Distributor for the EMEAR territory, or to find out about training local to you, visit: https://knowledgepoint.com/autodesk/