As Cameroon's major seaport, Port of Douala is home to most of the country's international trade. With connections to all of the country's major cities, it plays a pivotal role in keeping trade across the country moving. Efficiency, collaboration and clear processes, are key to this key aspect of the country's infrastructure.
With these factors a focus, Autodesk Authorized Learning Partner, CPA (Consultations et Projets d'Afrique) worked with RTC (Regie du Terminal Conteneurs), a subsidiary of the Port of Douala, to upskill its team of engineers.
CPA designed and delivered a six-week training program focused on Building Information Modeling (BIM), in support of RTC's project goals:
Collaboration, around the country without the need to meet every time
Improve efficiencies
Introduce BIM in the design process
Bibiane Etoa Epse Mengue, Commercial Director at CPA said: "Following a recent resolution by the government of Cameroon about outsourcing engineering services, RTC recognised it needed to upskill and develop its workforce, particularly as the port facilities adopts more digital technologies.
"To help us understand the business challenges faced by RTC, we conducted a long discovery session. We identified that RTC didn't have a system in place where it could store its design work. In addition, it could not do any modelling work and nor could the team detect clashes.
"We designed a training program to help them collaboratively thereby saving time and information to deliver projects on time. We focused on upskilling with key Autodesk software to support achievement of project goals.
"The team is now familiar with the software, and is able to use it effectively to model, reduce risks, and automate tasks to reduce design time and improve handoff with streamline data exchange. They are now also able to access tools that enable them to deliver more business and create high quality infrastructure designs with conceptual and detailed design tools."
The RTC team acquired the required expertise and product knowledge to ensure a hugely successful project. Participants were overwhelming positive about the training:
"CPA has helped to understand some products from Autodesk which will assist us to be more efficient," RTC project manager.
"CPA has an excellent team of instructors with great experience,'' civil engineer from RTC.
The next phase in the collaboration between RTC and CPA involves further training in June 2023.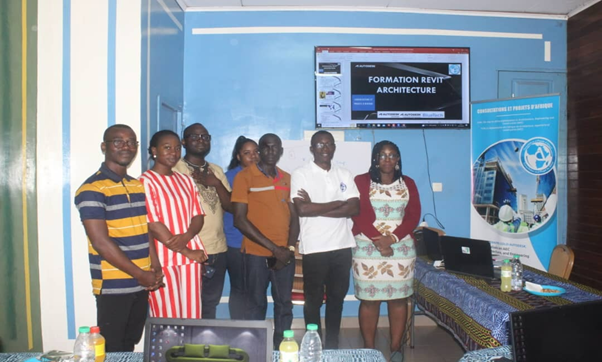 About RTC (Regie du Terminal Conteneurs)
RTC is a subsidiary of the Port of Douala, established by the government of Cameroon to:
Update and maintain Terminal infrastructures and equipment within the Port (Harbour)
Renovate government buildings in the city
Renovate railways and train stations
About CPA (Consultations et Projets d'Afrique)

CPA Cameroun helps African companies specializing in AEC to make better choices in the digitalization strategy of their activities. The company recognises an ever-increasing need for CAD/CAD software solutions in the countries of Sub-Saharan Africa during the implementation of construction projects. It works in partnership with its customers, auditing requirements to make sure solutions meet their specific needs.  https://www.consultations-projets-afrique.com/
For further information about KnowledgePoint and its role as the Autodesk Learning Partner Distributor for the EMEAR territory, or to find out about training local to you, visit: https://knowledgepoint.com/autodesk/