With a focus on boosting productivity in the manufacturing sector, Generative CAD has designed and delivered a programme to address technical know-how and hands-on skills. Nigeria has typically struggled to meet emerging skills demands associated with new developments in the sector.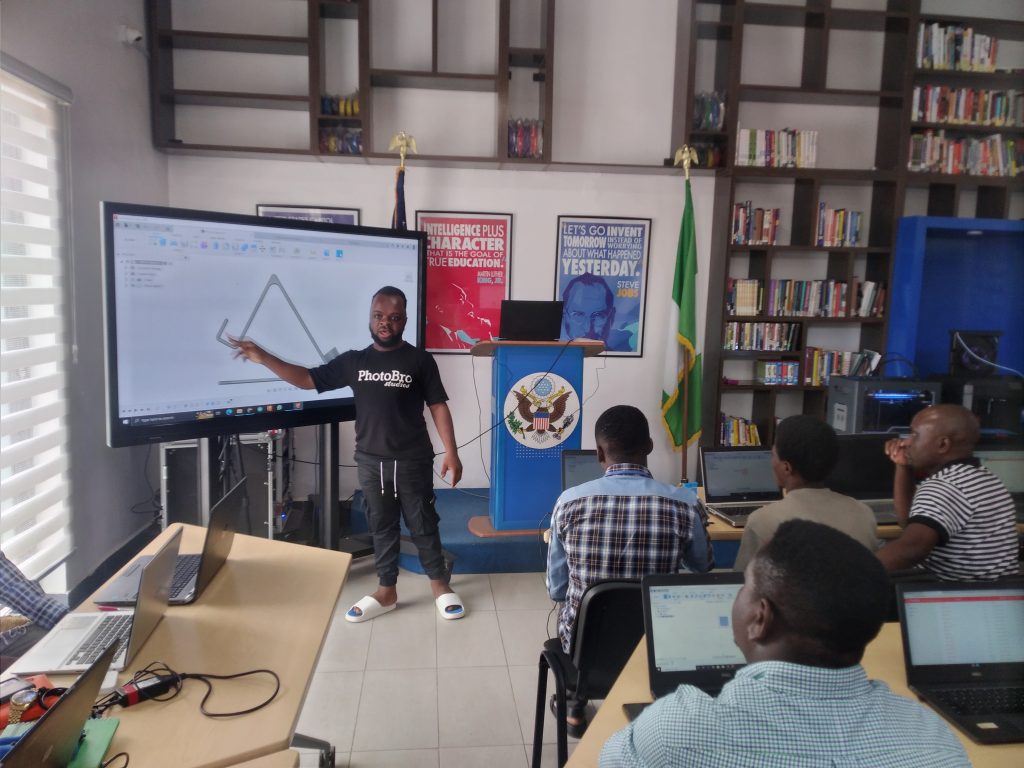 Generative CAD recognised an increasing need to equip existing mechanical engineering and electrical/electronic engineering professionals, or those hoping to transition into these fields, with skills to capitalise upon recent developments in the industry.
Delivered in collaboration with American Corner Ikeja-Lagos, the five-day manufacturing workshop on design and digital manufacturing saw 36 participants trained using Autodesk Fusion 360.  The workshop focused on equipping the participants with the necessary skills to navigate today's dynamic manufacturing industry.  
"We know that for the manufacturing sector across Nigeria to be productive and effective, it needs to make the most of what digital technologies can offer.  Our nation's existing and new engineers need the skills and confidence to master what's coming down the line.  This means that there's a need to not only up-skill but to also future-skill. 

We recognise there's a need to deliver training which helps existing and future engineers to develop the practical skills and know-how they need in the workplace.  This programme offered them the opportunity to work in teams to develop and model real-world projects.  Along the way they developed digital manufacturing skills such as design for manufacturing and 3d printing. 

All participants were really positive about the workshops.  I'm confident that this collaboration has given them a solid foundation for developing their careers in the manufacturing sector." 

Chukwubuikem Felix Amaefule, CEO of Generative CAD
The workshops sessions covered future of work for product designers, introduction to Fusion 360, as well as hands-on digital manufacturing skills such as design for manufacturing and 3d printing. They had the opportunity to work in teams to develop projects and went on to model real world products such as a phone stand and office tabletop stand. These models were also used to illustrate additive and subtractive manufacturing design considerations, understand slicing for 3D printing and product development from design to the first prototype.
Generative design was also covered. Participants learnt about new ways of designing and optimising components exploring options and comparing different results. This allowed them to consider their preferred manufacturing method.
Generative CAD Services Limited is a product development and engineering consulting firm. A market leader in the manufacturing, energy and mining industries offering product development solutions, engineering consulting, professional custom training. They are one of the major Autodesk Learning Partners in Nigeria. Their team comprises of highly skilled experts upskilled to adopt the current state-of-the-art technology in a secure setting and to impact knowledge. They have carried out numerous training programs with education institutions and cooperate bodies in Nigeria. Their online product development school & on-demand digital manufacturing platform offers industry-level knowledge in product development, access to on-demand manufacturing services, and shop for development tools & components. They also provide 360 support that empowers makers to focus on what they know how to do the best; make things. They believe and are confident that their Product Development school & On-demand Digital Manufacturing platform will democratise Making in Africa https://generativecad.com
American Corner Ikeja in Lagos is a commitment to the country's efforts to develop and support an educational system that will unlock the expertise, innovative spirit, and entrepreneurial capacity of young Nigerians. The centre offers a range of programmes and workshops, helping young people to develop their ideas, as well as their leadership and entrepreneurship skills. The American Corner Ikeja is a tech environment designed to promote digital skills among youths and provide a well-equipped workshop space for learning. The Corner offers conversation clubs, discussion groups, virtual programs, film screenings on various topics, and STEM learning activities such as 3D printing, robotics and drone technology.
For further information about KnowledgePoint and its role as the Autodesk Learning Partner Distributor for the EMEAR territory, or to find out about training local to you, visit: https://knowledgepoint.com/autodesk/