"Teaching is hard, but it is one of the most effective ways to change the world."  Alexey Andreev – 2020

We want to share with you all the very tragic news that our colleague and friend Alexey Andreev sadly passed away at the weekend, after a very short illness. Alexey was with us in the Channel Services team for almost 6 years, working tirelessly with our key client, Autodesk. He had recently been promoted to manage the Onboarding, Engagement and Support team.
He was a great colleague and a friend who made a huge impact on the teams he worked with. He possessed an analytical mindset, together with a touch of humour, which only added to his astute reflections, Alexey offered valuable insight and motivated others through a future-centric and always optimistic view of the world. He worked in the training and learning industry for many years, and one of his main goals was to connect industry and academia through building partnerships between academic institutions, government, and industry leaders. This is best showcased through his work to support WorldSkills (https://worldskills.org); a global organisation that celebrates those skills by organising competitions on national, regional and global level.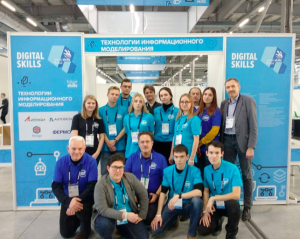 Alexey led KnowledgePoint's engagement with WorldSkills on behalf of Autodesk for a number of years; and he was part of a small group of pioneers who launched the Building Information Modelling (BIM) competition category with the aim to promote digital skills within the construction industry. This journey gave him the opportunity to pilot the BIM competition in the role as Chief Expert at the 2019 global WorldSkills championship in Kazan, an event that was followed by several online training camps in 2020 and 2021 that aimed to bridge the challenges created by the pandemic.
The latest BIM skills camp was a 9-day event co-organised by Alexey that saw participation by 130+ delegates from 14 countries around the world, who got to practice the competition assignments and prepared to launch the BIM Skill in their countries. These online events have been an essential part in launching the BIM Skill across the world and will form part of Alexey's remaining contributions. His next step was to work as the DigitalConstruction (ex-BIM) Skills Manager at the upcoming global WorldSkills championship in Shanghai.
Alexey's passion for education and learning extended outside of work as he regularly led and participated in events, conferences, and other forums. In July 2021 he was part of forming a "Mind Club" in his hometown with the mission to learn new methods of thinking and applying them in practice.
His "Mind Club" won the 2021 Finals of the "Thinking Marathon" competition, which took place in Yekaterinburg; there was a total of 33 clubs competing and although they were one of the youngest clubs formed, they still achieved this "interesting result" to put it in Alexey's own words.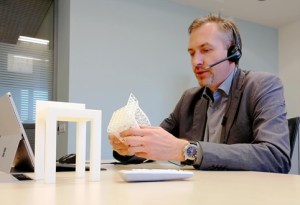 Alexey will be greatly missed by everyone who worked with him and his strong passion for education and learning will remain with us. Our heartfelt condolences go out to his team, his friends and his family at this very sad time. He will be sorely missed in our business and we will be forever appreciative of his hard work, and loyalty, as well as the commitment and invaluable contributions he made. He was fundamental in enabling and delivering initiatives that enhanced the effectiveness of Autodesk's education partners globally, he was a trusted, respected and well-liked member of the KP team and throughout the business and it is with heavy hearts that we say goodbye to our friend and colleague Alexey.
From Graeme Phillips at AWS
"I will always remember Alexey with affection. It was an absolutely pleasure to work with him. A gentle, good-humoured and deeply passionate man in his love of education, and particularly in encouraging young people to pursue STEM learning and careers. The impact he had on so many will live on, and it is a legacy that he would be justifiably proud of."
From Claire Edwards, MMS Commercial UK
"As a former member of the KP team, am so very sorry to hear about Alexey and wish to convey my sincere condolences to his family and you all"
From Steven Taylor, 3DGBIRE
"Such sad news. My condolences to his family and the team at KnowledgePoint.  His dedication and enthusiasm for inspiring the next generation, especially in Worldskills Digital Construction (BIM) will be greatly missed."
From Rickard Lautrup, AWS
"Shocked when I heard the very sad news about Alexey. His dedication to educating the young talent of tomorrow will have a long-lasting impact. A great colleague and friend. Sincere condolences to his family."
From Sally Evans, KnowledgePoint
"Such sad news. My condolences to his family and the team at KnowledgePoint. I will remember Alexey for his unwavering passion for learning and supporting future generations to develop their careers. He will be missed."
From John Heffron, KnowledgePoint
"Rest in peace Alexey, you will be sorely missed at KP. Sincere condolences to your family"
From Alastair Jeffery, MASS Information Systems
"My condolences to Alexey's family, friends plus colleagues past and present particularly at KnowledgePoint, Autodesk and WorldSkills. Alexey was a great guy, such a loss."
From Andre Philpot, KnowledgePoint
"Alexey will be sadly missed"
From Paul Gibbons, KnowledgePoint
"Rest in peace Alexey"
From Costi Karayannis, Capita
"So sorry for your loss. This is desperately sad, thinking of you and all at KP."
From Lesley Gregory, Amazon Worldwide Operations
"So terribly sorry to hear this"