Adding the skills needed for manufacturing prowess and success
When I look at what's on the horizon in manufacturing, the words of Jeff Bezos come to mind:
"There is no alternative to digital transformation. Visionary companies will carve out new strategic options for themselves – those that don't adapt will fail."
Digital transformation holds the key to the future of manufacturing.  Those manufacturers already adopting digital technologies are realising improvements in efficiency, performance, productivity as well as reduced energy bills.
But for some companies, particularly smaller manufacturers, being able to invest in new technologies can feel like they're somewhat out of reach.  The costs are too prohibitive, the connectivity is just not good enough… and the digital skills gap is just too wide.
One of the technologies which is more accessible across the globe is 3D printing, known as additive manufacturing (AM).  Not only does it offer a different way of physically making objects, 3D printing could also change the operator landscape.
According to McKinsey & Company*:
After decades as a bit player, additive manufacturing is on the cusp of stardom. Faster machines, better materials, and smarter software are helping to make AM a realistic solution for many real-world production applications. As the technical barriers fall, the onus is on manufacturers to improve their understanding of these rapidly evolving technologies, building the skills, processes, and business models needed to make additive manufacturing shine in the industrial world.
Could additive manufacturing be a game changer for industry in Africa?
It could provide a realistic entry point for smaller manufacturers.  It could also provide a point of differentiation or potential for those looking to embark upon the manufacturing game.  Arguably the technology provides an opportunity for companies in developing countries to compete against developed countries.
As I look ahead to our Digital Skills Camp Africa, I've been thinking about the implications of digital transformation and AM for companies across a continent fighting for its place in an industrialised world.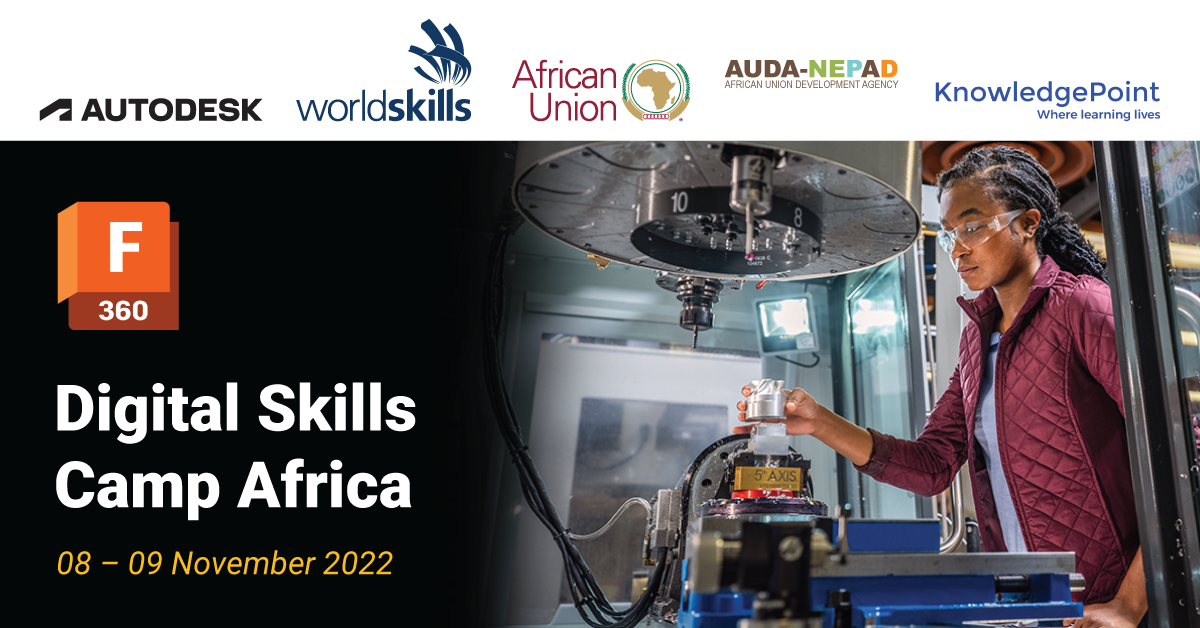 Africa is rich in natural resources, many of which are sent elsewhere for processing or for use in production. It is also one of the fastest growing consumer markets in the world.  But, to date, the continent has lagged behind the rest of the world in production capacity and capability.  The majority of manufacturers operating in the sector tend to be small to medium (SME) enterprises.
However, many nations have been lacking the necessary infrastructure for them to compete on a global manufacturing stage. Investment is needed in reliable and affordable power supply, transport infrastructure, and postal address systems—as well as digital infrastructure, such as high-speed internet, mobile virtual networks, and interoperable systems.
Africa's workforce is perceived to be lacking in skills and efficiency, a major hindrance to the development of manufacturing competence. There's a need to invest in all levels of education, addressing inequalities and expanding access to schools and training. Some countries need a demand-driven education system which is in sync with employers' needs, as well as building both STEM and ICT capacity.
So, what's the answer for markets with lower levels of educational participation and under-investment in skills? Many countries across the continent are turning-up dial on their digital skills investment.
Should focusing on the skills needed for AM become a priority for the continent?  Innovations in AM materials and technologies demand different and skills and capabilities to those required in traditional manufacturing.  Directing investment into developing skills for a technology which provides an opportunity for the SME manufacturers across the region could be a game changer.
Talking to colleagues across our training network, I've heard that businesses and universities alike are seeing the potential of AM.  They're using the opportunity to develop the skills needed to capitalise upon the opportunity.
The educational sector needs to lead the charge to provide training and retraining programmes for engineers, technologists and other professionals involved in 3D printing. They need to develop new curricula, research and programmes in additive manufacturing.
Learning from experience: university and training provider collaboration
Academia and employers alike need to play a role in increasing familiarity with the tools and technologies in use in modern manufacturing, supporting students and employees to gain the skills they need to be productive.  One such example is a recent collaboration between Generative CAD Services and the Faculty of Engineering at Lagos State University saw a number of lecturers being equipped with the necessary skills to navigate today's dynamic engineering curriculum.  With the need to not just up-skill but to also future-skill, the project combined academic knowledge and industry applications.
Prof Elkanah Oyetunji, Dean Faculty of Engineering, Lagos State University, Nigeria said:
From understanding the critical components of the future of work to the thinking process of how modern products are made (design intent, manufacturability, sustainability, usability, scalability, etc.), to creating high fidelity digital designs that are manufacturable to actual digital manufacturing (3D printing); it was a comprehensive product development training with a focus on real-world applications.…the Faculty is in the process of adopting and implementing Autodesk Fusion 360 into our learning curriculum to facilitate product design and digital manufacturing for our students.
Education, industry and governments on the African continent need to work together to harness the opportunities offered by 3D printing. Collaboration can unlock the potential of AM across the region.
These topics will be explored during the Digital Skills Camp Africa on 8-9 November 2022. Bringing together industry, education and representatives from the African Union and World Skills, the event will explore the latest digital trends in design and manufacturing.  Attendees will hear from experts about how they make the most of AM, and they'll gain practical skills.
So, what's on the horizon for manufacturing across Africa?  Does additive manufacturing offer an opportunity for the continent to carve out a new strategic position? Adapting and developing the skills for AM could be a route to success.
Tomas Karlsson is the senior manager channel services at KnowledgePoint. This means he oversees the management of outsourced extended enterprise learning programmes, recruiting and supporting global network of training providers on behalf of clients.  These programmes include developing resources to support sector engagement by training network partners. The latest insight report looking at the opportunities offered by Additive Manufacturing produced as part of KP's work with Autodesk can be found here. 
* The mainstreaming of additive manufacturing, McKinsey & Company, 2022